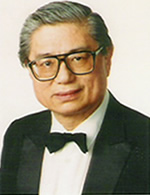 Dr. Yip Wai-hong's contribution to Hong Kong music education over the last four decades has become the stuff of legend. He is also an eminent composer and a music teacher himself. Dr. Yip entered Yen-Ching University, Beijing in China and later graduated from the Peking Central Conservatory of Music, majoring in music theory and composition. Afterwards he graduated with a Master of Church Music Degree in 1970 from the Southern Baptist Theological Seminary, Louisville, Kentucky, USA. In 1979, Dr. Yip was conferred Doctor of Musical Arts Degree with Academic Achievement Award from the Southwestern Baptist Theological Seminary in Fort Worth, Texas, USA. His works include symphonic music, concerto, instrumental music, oratorio, choral music and arrangements of Chinese folk music. He had been the Head and Professor of the Music and Fine Arts Department, Hong Kong Baptist University (HKBU) for almost 30 years before his retirement in 1992. he has also been appointed as one of the Directors of the Board of Governors of the HKBU since 1993.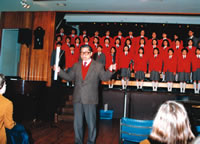 YCC gave demonstration at a secondary school in Australia, 1988.
Dr. Yip is known as the "Father of Children's Choir" in Hong Kong. He also helped establish many local choirs in Hong Kong throughout the years. Dr. Yip first founded the Hong Kong Children's Choir (HKCC) in 1969, being its Music Director and Conductor until 1983. During those 14 years, Dr. Yip and his Choir were invited three times in succession by the International Society for Music Education (ISME) to give concerts in their biennial conferences in 1974, 1976 and 1978. Dr Yip then founded the Yip's Children's Choir (YCC) in 1983. Under his leadership, YCC gave overseas concert performances every year all over the world including Europe, America, Asia, Australia and Africa. Dr. Yip was again invited by the ISME to lead YCC presenting concerts in the 18th ISME Conference in Australia, 1988 and the 23rd ISME Conference in South Africa, 1998. Dr. Yip also demonstrated both his music education system and choral training method at the 1989 biennial conference of the American Choral Directors Association (ACDA) in Kentucky, USA, as well as the 11th Association of British Choral Directors (ABCD) Conference in Oxford, UK, in 1996. Dr. Yip's presentation of the Yip's Education System and Pedagogy aroused great interests at the conference. Dr. Yip also gave workshops in the First International Music Festival in Singapore, the International Festival of Children's Choirs in Moscow, as well as lecturing in Brazil.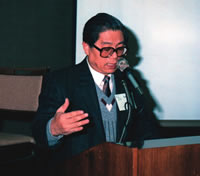 Biennial conference of the American Choral Directors Association (ACDA), Louisville, Kentucky, USA, 1989
Following the 1982 International Children's Choir Festival held in Hong Kong, Dr. Yip, who was Artistic Director for the Festival, together with several choir directors from various countries, established the International Society of Children's Choral & Performing Arts (ISCCPA) in Salt Lake City, Utah, in 1983. He was then elected Chairman of the Society. In August 1987, Dr. Yip was appointed Permanent Honorary Chairman of the Society at the John F. Kennedy Center in Washington D.C. where the Society's headquarter was located. He was re-elected as Chairman of the Society from 1999-2002 before re-appointed as Permanent Honorary Chairman afterwards.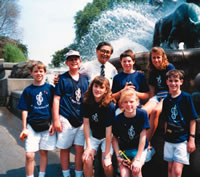 Dr. Yip was invited to be the Artistic Director and Conductor of International Children's Choral Festival in Copenhagen, Denmark, 1992.
In 1976, Dr. Yip established the Pan Asia Symphony Orchestra for the purpose of promoting Chinese orchestral music. His presentation of symphonic concerts in the form of seminar was regarded as a pioneering move at that time. He had guest conducted the San Francisco Chamber Orchestra, the Guangzhou Symphony Orchestra, and the Shanghai Ballet Symphony Orchestra in 1982, 1984 and 1985 respectively. To take a further step to nourish young talents in Hong Kong, Dr. Yip founded the Hong Kong Children's Symphony Orchestra in 1996.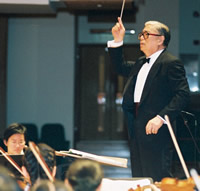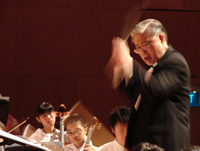 Dr. Yip has devoted to children's music education since 1969.
Dr. Yip had worked on several pedagogical researches with his colleagues at the Yip's Children's Choral & Performing Arts Centre (YCCPAC) designing the Yip's music education system for children which has widely been adopted by local music organizations in Hong Kong and overseas. He had been invited to various International seminars in the US. Russia, Denmark, Brazil, Singapore and Australia to present workshops about "Yip's Pedagogy", "How to Manage a Children's Choir", "Choral Training Methods", "How to Treat Changing Voices", "Application of Computer Musical Games" and "Aural Training".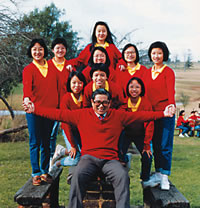 Dr. Yip and members of the overseas concert Tour group in Sydney, Australia, 1988.
Dr. Yip accepted invitation from the Piano Teachers National Association (PTNA) of Japan to serve as a member of jury in the 1987 PTNA National Piano Competition. Dr. Yip is a member of the International Advisory Board of the Gina Bachauer International Piano Competition US and served as a jury member of the 1988 Competition.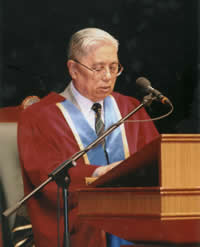 Dr. Yip spoke at the conferment ceremony on behalf of himself and six other Fellows at Hong Kong Baptist University.
Due to his highly acclaimed accomplishments, Dr. Yip was conferred Honorary Fellowship of Hong Kong Baptist University. The honours and accolades bestowed upon him during his illustrious career include Honorary Citizenship of Fort Worth, Dallas and Tuscon; The Golden Key of Avon Lake, Florida; Colonel of the State of Kentucky, USA; and Hong Kong Art Educator of the Year (1990). In 2003, he was awarded the Medal of Honour of the Hong Kong Special Administration Region.