Introduction
The Yip's Children's Choir (YCC) is a registered nonprofit organization that was created in 1983 by Dr. Yip Wai-hong after years of dedicated work in the field of children's music education. Renowned for its stellar performances and stringent training, YCC strives for distinctive interpretation and solid technique. As a result of its accomplishments, YCC has been invited repeatedly as guest performer by major international music festivals and conferences, earning the title "Cultural Ambassador of Hong Kong".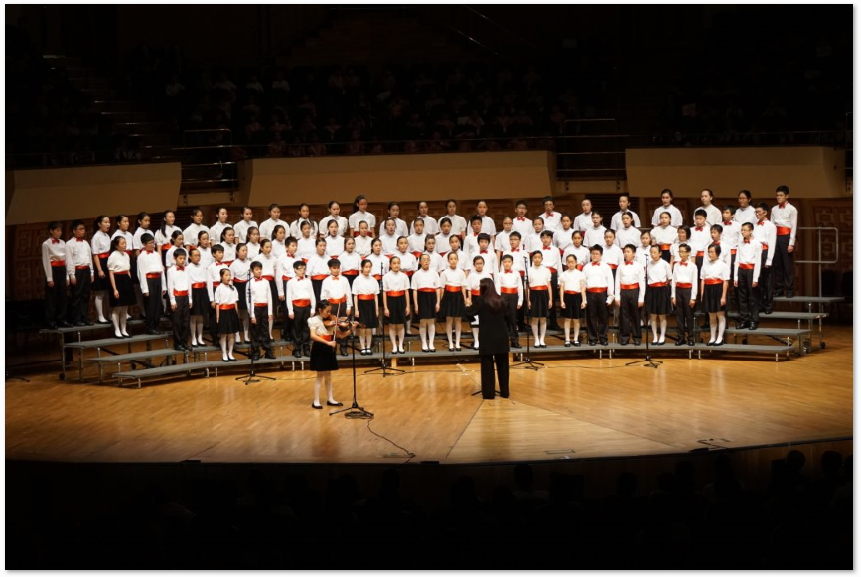 Choral Training
Choral singing is part of a comprehensive music training. We work tirelessly on tone production, color, balance, musicianship and musicality, combining individual technical competence with ensemble skills. YCC's training is all-encompassing and orthodox, ensuring a firm foundation of classical music study. Each year, YCC members participate in at least two performances either locally or internationally, enabling students to practise their crafts. Primary Choir classes follow Dr. Yip's principle of 'Learning is fun'. In essence, YCC provides children and adolescence with an inspiring and nurturing environment in which they grow and mature into capable and well-balanced individuals.
Choristers are encouraged to take instrumental lessons to further develop their talents.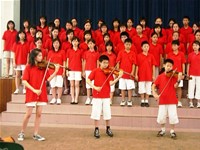 Structure
There are about 1,300 members in YCC ranging from 5.5 to 17 of age. According to age and musical abilities, our classes are structured into 5 groups: Primary, Elementary, Intermediate, Senior and Overseas Concert Choir. Overseas Concert Choir members are chosen from the Senior Choir each year. The repertoire of the Overseas Concert Choir is extensive, covering works of the Renaissance to the Modern periods and styles ranging from sacred music, folk songs, art songs and Jazz. Over the years, YCC has made over 25 audio and video recordings.
Overseas Concert Tours
Our concert tours are different from study groups or sight-seeing-based performance tours. Performing overseas for cultured audiences is a vital goal of YCC.
During the tours, YCC members get to work with and learn from prestigious foreign choirs and musicians. Besides gaining confidence and performance experience, they also learn about other cultures, the importance of teamwork, co-operation, and respect for one another.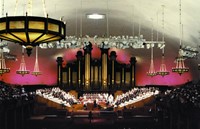 In 1991 at Salt Lake City, Utah singing with the Tabernacle Choir
Performing overseas has a different connotation than performing locally. It takes on the responsibility of cultural representation. We show the world who we are as musicians and people. Simultaneously, we learn from the audience and find our horizons broadened in every way.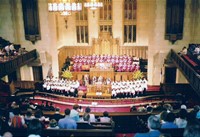 Performing jointly with members of the First Baptist Church Choir at Fort Worth, Texas in 2004.

Regarded as a cultural ambassador of Hong Kong, YCC does a lot of interviews with the press; visits with mayors, governors and even officials of embassies who always extend gracious hospitality to our members. In these social events, our members invariably learn a great deal about public relations and the etiquette of different cultures.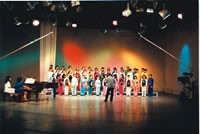 Recording for Tibilisi TV at Georgia, USSR in 1989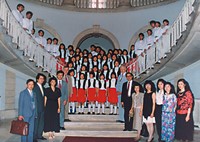 1987 YCC posing with the Mayor of New York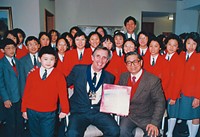 At Berwick, Australia in 1988 where the Mayor welcomed YCC fervently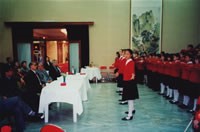 The Chinese Ambassador to Argentina at Buenos Airs, Mr. Xú Yi-cōng and Mrs. Xú enjoying YCC's singing in 2000
Known over 6 Continents
Since 1984, YCC has sung in over 80 cities of 38 countries. They include U.S.A., Brazil, South Africa, Canada; Mexico; Chile, Argentina, Uruguay; U.K., Belgium, France, Germany, Switzerland; Holland, Denmark, Sweden, Iceland, Finland; Italy, Greece, Spain; Austria, Hungary, Czech Republic, Slovakia, Slovenia, Poland, Russia, Georgia; Egypt; Australia, New Zealand; China, Korea, Japan; Thailand, Malaysia, and Singapore.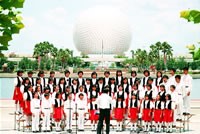 Singing at the Epcot Centre of Disney World at Florida, USA in 1984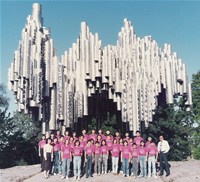 Posing at Sibelius Memorial Park at Helsinki, Finland in 1985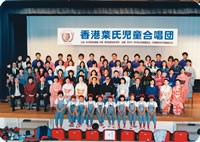 At Tokyo, Japan in 1985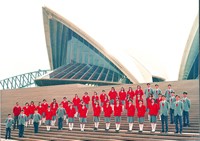 In front of Sydney Opera House in 1998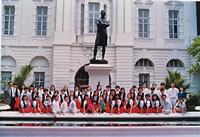 Posing at Victoria Concert Hall in Singapore in 1989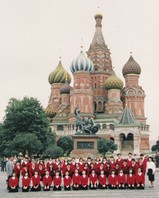 1989, performing as a guest of the Russian Musicians Association at Moscow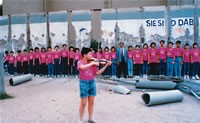 Singing in front of the monumental Berlin Wall, Germany in 1990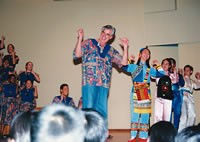 Practicing dance steps at Pretoria, South Africa in 1998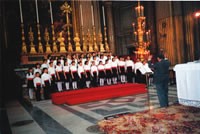 Singing in Rome, Italy in 1999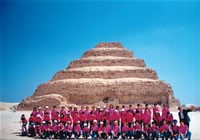 At Cairo, Egypt in 1999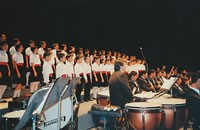 Singing with the Miguel Hidalgo Symphony Orchestra in Mexico City in 2000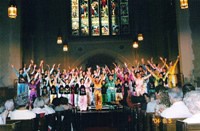 Giving a colourful show at St. Andrew''s Wesley Church in Vancouver, Canada in 2004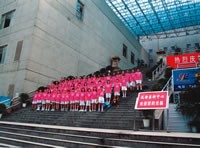 Outside of Cheng-du Cultural Centre in Cheng-du, China in 2002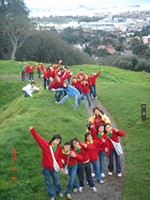 Posing on Mt. Eden in Auckland, New Zealand in 2005
Performed at Major Concert Halls Around the World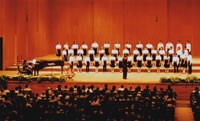 Lincoln Center for the Performing Arts,New York, USA 1987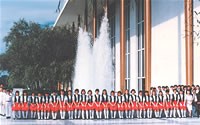 Kennedy Center for the Performing Arts, Washington D.C., USA 1987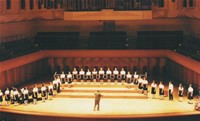 Davies Symphony Hall, San Francisco, U.S.A 1987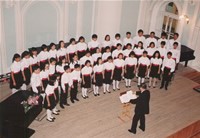 Rachmaninoff Hall of the Moscow Conservatory of Music, USSR 1989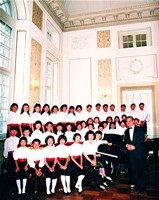 The Chopin Institute of Music, Warsaw, Poland 1990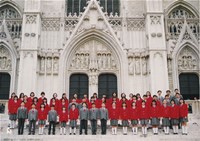 St. Michael's Cathedral at Brussels, Belgium 1992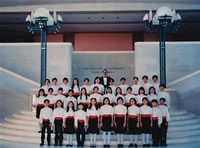 Myerson Symphony Hall, Dallas, USA 1994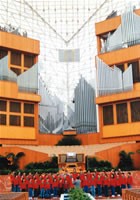 Crystal Cathedral in California, USA 1997
YCC as Cultural Ambassador
For over 25 years, YCC has sung in numerous international choral festivals and conferences held over different corners of the world.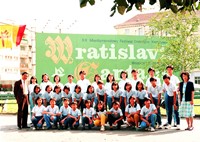 Singing at the 20th International Cantata &Oratorio Festival in 1985 at Wroclaw, Poland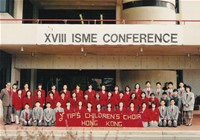 In Canberra, Australia singing at the18th International Society for Music Education Conference; 1988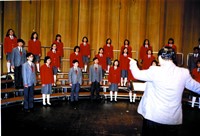 Singing at the 30th Conference of the American Choral Directors Association(ACDA) in 1989 at Kentucky, USA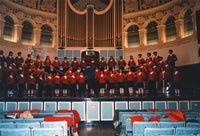 Performing at Oxford, UK for the 11th Conference of the Association of British Choral Directors; 1996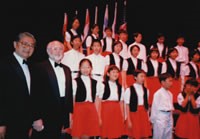 A guest performer at the 1997 International Children's Choir Festival held at Tucson, Arizona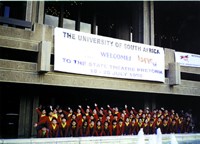 Singing in the 23rd Conference of the International Society for Music Education(ISME) at Pretoria, South Africa in 1998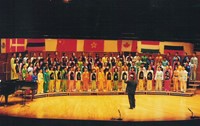 Performing in 1999 for the International Children's Choir Festival at Beijing, China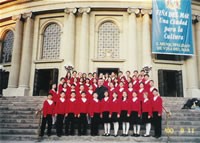 As part of the Americas Concert Tour in 2000 visiting Mexico, Chile, Argentina and Uruguay, YCC performed at the International Children's Choir Festival for Central and South America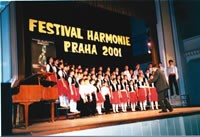 A guest of the International Children's Choir Festival in Prague, Czechoslovakia; 2001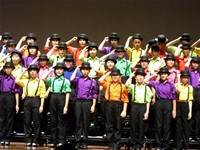 Giving an invigorating program at the International Society for Music Education Conference in Malaysia; 2006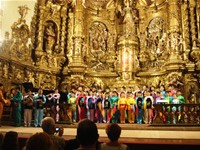 In 2006 at Barcelona, Spain performing at The Cadaques International Music Festival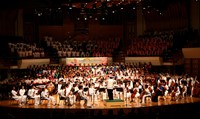 Singing in 2007 for the International Children's Choral & Performing Arts Festival of Hong Kong
Active Participation in the Local Music Scene
On July 1, 1997 the historical event of Hong Kong's handover took place. The world heard YCC at the Handover Celebration Ceremony singing in Tan Dun's Symphony 1997: Heaven –Earth – Mankind. The work, which was written for the eminent Chinese cellist Yo-yo Ma, the recently unearthed ancient Bianzhong Bells, children's choir and orchestra, was world-premiered at the ceremony.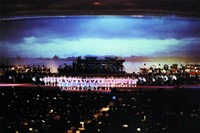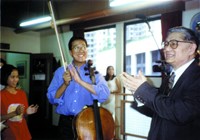 In 2002, HKSAR celebrated its 5th Anniversary. A 500-member delegation from YCC which also included violin soloists participated in The Music of the Dragons Concert, a conglomeration of classical and pop artists from all over Mainland China, Hong Kong, Macao and Taiwan performing instrumental, orchestral and choral works and playing a massive percussion piece involving 10,102 musicians. Together, they broke the Guinness World Record of "the Largest Percusiion Performance". Maestra Wing-sie Yip was the artistic director and conductor of the concert.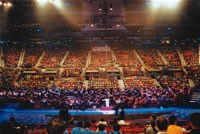 300 YCC members helped break the Guinness World Record of "the Largest Drum Ensemble" in Dragon Jamboree 2007. Along with luminaries, pop stars and thousands of youngsters from Asia, YCC celebrated the 10th Anniversary of Hong Kong's return of sovereignty to China. Besides playing drums in the exhilarating Drumming Jamboree, YCC members performed Let's Sing, a piece written for a mass choir of over 1,000 singers.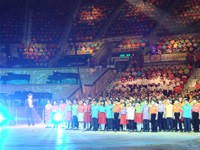 In September, 2005 Opera Hong Kong invited 20 YCC members to sing in its production of Puccini's Verismo masterpiece Turandot, one of his most revered operas. The children learned a great deal from established singers like Mr. Warren Mok.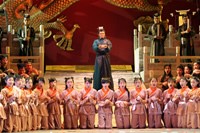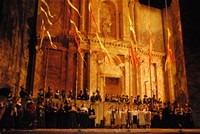 Opera Hong Kong acquired YCC again in May, 2006. 23 members were chosen to sing in Bizet's Carmen. The cast was all impressed by the performance of our young choristers.