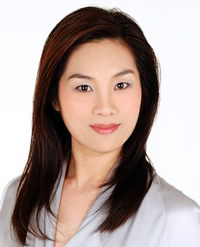 Sincere Yip is currently the Co-artistic Director of the Yip's Children's Choral and Performing Arts Centre, the conductor of the Yip's Children's Choir Senior and Overseas Tour Choir, and the Artistic & Music Director of the Yip's Children's Musical Theater. She graduated from the University of California, Los Angeles (UCLA) with a Master of Arts Degree in Music Education in 1982, and received her Bachelor of Music Degree in Piano Pedagogy from the University of North Texas in 1981. She was also granted the Licentiate of the Trinity College of Music, London (L.T.C.L.) and the Licentiate of the Royal Schools of Music, London (L.R.S.M.) both in Piano Performance in 1978 and 1979.  Sincere was one of the founding members of the Hong Kong Children's Choir founded by her parents. With a passion in teaching and organizing performances for children, Sincere became a music educator and administrator.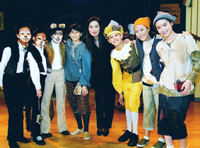 In 1983, Sincere assisted her father in establishing the Yip's Children's Choral & Performing Arts Centre and the Hong Kong Yip's Children's Choir. She also founded the Los Angeles Yip's Children's Choir in 1993 and led the Choir in numerous performances throughout southern California and South East Asia. Since 1995, Sincere has been producing, directing and conducting numerous children's musicals. They include The Emperor's New Clothes, City Mouse and Country Mouse, Twelve Days of Christmas, Red Sea Jazz, Tom Sawyer – The Ageless Boy, Pinocchio, Jack & the Beanstalk, Disney's The Jungle Book, Disney's Mulan Jr. and "Snoopy!!!".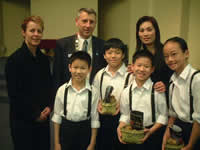 After her return to Hong Kong from the United States in 2000, Sincere has worked tirelessly on pedagogical researches in music education, engaging new teaching methods and updated teaching materials in Yip's pre-school music and choral programs. She has also dedicated her effort in enhancing music education programs for children in Yip's through frequent teachers training. She has been invited frequently to adjudicate in singing contests as well as give speeches in seminars and workshops on music education and child development. As music director, she was in charge of the American musical Quilters produced in May 2002 by the American Community Theater in Hong Kong.
From 2004 to 2008, Sincere led the Yip's Children's Overseas Tour Choir to perform throughout China, Southeast Asia, Europe, North America, Australia, New Zealand, South Africa and South America.
 
As a Rotarian, Sincere is actively involved in various community services.