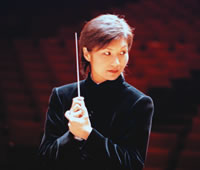 Currently Music Director of the Hong Kong Sinfonietta and Principal Guest Conductor of the Guangzhou Symphony Orchestra, Yip Wing-sie is a highly respected and influential figure in Asia's orchestral music scene. She was Music Director of the Guangzhou Symphony Orchestra from 2001 to 2003 and Resident Conductor of the Hong Kong Philharmonic Orchestra from 1986 to 2000.
Born in Guangzhou, Wing-sie was brought up in Hong Kong where she started taking piano lessons from her mother at the age of four. At the age of 10, she took up violin and as a teenager, she began her training in music theory and conducting with her father Dr. Yip Wai-hong. From 1978 to 1983, Wing-sie studied at the Royal College of Music in London on a scholarship from the Hong Kong Jockey Club, moving on to complete her master's degree in violin performance and conducting at Indiana University, Bloomington, Indiana, USA, in 1985.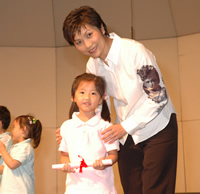 After winning the Koussevitsky Scholarship and the Seiji Ozawa Fellowship award, Wing-sie spent the summers of 1986 and 1992 attending the seminar and fellowship program at the Tanglewood Music Festival. There she studied with Seiji Ozawa and other great maestros including Leonard Bernstein, Gustav Meier, Gennady Rozhdestvensky and John Nelson. In September 1985, Wing-sie won the First Prize as well as "LYRE d'OR" in the 35th Concours International des Jeunes Chefs d'Orchestre de Besancon, France. She was also a prize winner in the 8th Tokyo International Conducting Competition in 1988.
Wing-sie is in great demand as a guest conductor in Asia. She has worked with the Shanghai Symphony, the Seoul Philharmonic and the Inchon City Symphony in Korea, the National Symphony in Taiwan, and in Japan, the Osaka Philharmonic, the symphony orchestras of Sapporo, Hiroshima, Shinsei Nihon, Yomiuri, Kyushu and the New Japan Philharmonic, and in Australia the Tasmania, Melbourne and Queensland Symphonies. In Europe, Wing-sie's engagements included concerts with the National Capitol Orchestre de Toulouse and the Chambre Orchestre de Besancon in France, Warsaw Philharmonic in Poland, Spain's Tenerife Symphony Orchestra, and the Czech State Orchestra of Koice.
Other highlights included return visits to Fukuoka's Asian Month Festival, a concert tour in Australia, as well as Wing-sie's debut with the Auckland Philharmonia, New Zealand and participating in the 1999 Beijing Music Festival with the Guangzhou Symphony Orchestra. In 2001, Yip conducted the Guangzhou Symphony Orchestra featuring pianist Yundi Li in the renowned Grossersaal of Musikverein in Vienna as well as in major European cities.
Yip is at present Music Director Emeritus of the Hong Kong Sinfonietta. Yip Wing-sie has devoted herself wholeheartedly in promoting classical music over the past thirty years. Besides having a wealth of performing experience, her effort in nurturing the next generation of musical talents is much appreciated by the society. The YCCPAC is very excited to welcome her on board!